School Building
School building located in Shinsaibashi in Horie area, place of origin of trends in Osaka is equipped with various facilities of jewelry such as design and creative studio, computer room, and jewelry gallery. Moreover, the ingenious school building design was done by construction designer Mr. Mitsuru Kiryu. It is high recognized and it is very often featured in various construction magazines.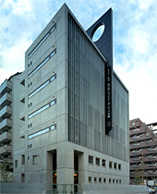 Production Design lab
Production design lab with the same specifications as a professional studio. It is equipped to help students learn various jewelry techniques such as chasing, hammering, and wax.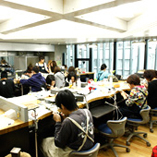 Design Rooms
Design rooms equipped with laptop computers. Removing the partitions result in a large hall capable of accommodating 100 people.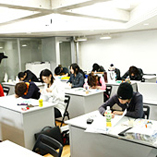 Casting Room
Casting is possible on campus without relying on outside vendor. Not only making a prototype, you can learn up to the casting process.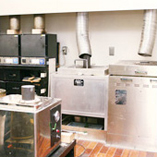 Exhibition Gallery
Excellent art space where exhibition of students' assignments and individual exhibitions by renowned Japanese and overseas jewelry designers are regularly held.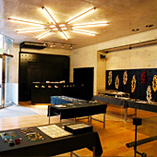 Student Shop
You can buy tools, gems, design material etc. here.
Library
Large collection of Japanese and overseas books and literature concerning jewelry and art.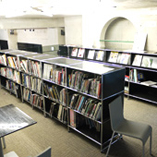 Gem cutting machine
You can give an original cut to gem with the gem cutting machine. You can also polish the stones that you have collected on your own.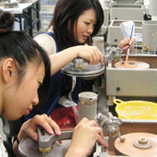 corazón+corazón
Jewelry shop that exhibits and sells the creations of students, graduates and faculty members.