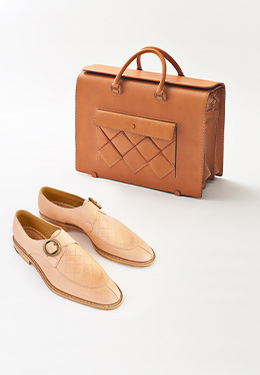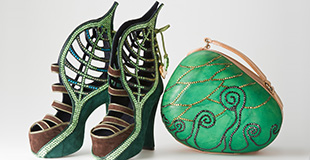 Pursue individual creation during various collaboration classes
In addition to Shoemaker Course (2years), you will learn more advanced shoemaking technologies in the third year, and you will present your own view of world on-campus and off-campus through an expression medium called "Shoes". It is full of practical classes where you will pursue individual creation, such as operating CAD (Computer Aided Design) that will widen your chances of playing important role in the field, company collaborations and branding programs.
Select Topics
My Last
Despite of same size, shape of feet is different in each person. By learning the know-how of last creation based on footprint measurement, you will take up a challenge of creating full order made shoes using the last that exactly matches your own feet.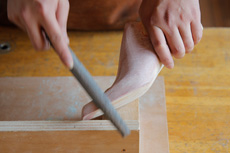 Project Work
With the supervisor of Camper, students go to a creative camp. By getting inspiration from nature, they design and create shoes by themselves.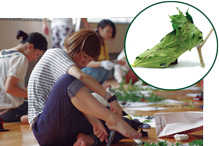 Sales and Planning
[Tokyo Vulcanized Project]
You will create original sneakers by pasting the upper made by you starting from print design of material to sewing, with the technique of vulcanization at Moonstar's Kurume factory. This project is sold at time period limited shop. Students could experience the entire process from making of shoes to selling them.